What's Going On: 05/01 – 05/08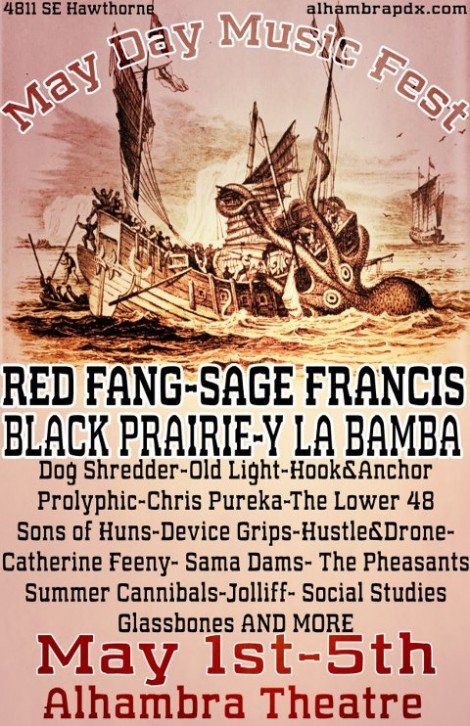 1. May Day Music Festival
Where: Alhambra Theatre (formerly Mt. Tabor Theatre)
How Much: $15/$20, $50 all-fest pass
When: Wednesday, May 1st – Sunday, May 5th
Why: May Day Music Fest kicks off tonight with RED FANG. Tomorrow is May Day Music Fest Day 2- Eleven Magazine and Deli showcase [FREE!], additional headliners: Day3 Black Prairie, Day4 Y La Bamba, Day5 Sage Francis. Discounted 5 day passes still available! Get more details here!
2. METZ w/ White Lung & WL
Where: Holocene
How Much: $10/$12
When: Thursday, May 2nd – 9pm
Why: Hailing from Toronto, this power rock trio brings it, and they bring it hard. I happened to catch METZ at a pre-Austin Psych Fest show last week and woah! Add Vancouver B.C.'s White Lung and hot damn, y'all are in for a treat–it's a match made in music heaven!
3. Vietnam w/ Gap Dream & Small Arms
Where: Dante's
How Much: $10
When: Saturday, May 4th – 9pm
Why: Mexican Summer's Vietnam teams up with Burger Record's Gap Dream for one heck of show you're not going to want to miss! Here's one of my favorite tracks from Gap Dream: 58th St. Fingers. Highly recommended! Definitely bring some extra dollars to pick up both of these bands' records.